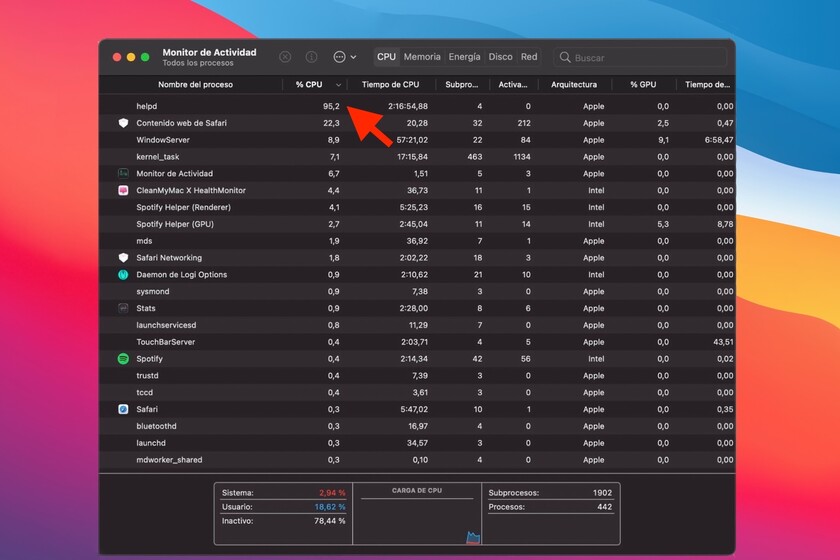 After many months watching the 'helpd' process consume all the resources of a thread or core in macOS Big Sur, Apple has finally fixed the bug in macOS Big Sur 11.2. However, many users globally will not notice anything, because, as far as we know, the bug only affected systems configured in the Spanish language of Spain.
As we already mentioned, in other languages ​​and variants of Spanish it did not occur, and the absence of the bug in English is what has probably meant that Apple has taken a long time to correct it, because Big Sur launched with that bug on December 12 of last year.
helpd has not made an appearance again
When I learned from forums that the cause of the high CPU usage was the Spanish language of Spain, I changed it to the generic 'Spanish (Latin America)', with the surprise that, in addition to fixing, items such as the 'Trash' were renamed to 'Trash'. Others like loudspeakers changed their name to horns, a term with which he was familiar.
Officially, Apple has not communicated changes, but our experience after a few days is that the bug has been fixed
The experience in Latin American Spanish has been good, without the bug ever appearing, but with the launch this week of Big Sur 11.2 I wanted to test if Apple had already fixed the problem. And the answer, after a few days, is yes. Now the helpd process opens when it needs to be opened, and when it does, it consumes very little CPU, which corresponds to such a small process, as we remember that it is only in charge of managing the help menus.
Even if the bug has gone unnoticed, it will have an impact on the warm-up of some teams, especially those of Intel, which according to comments in the forums and sent by Genbeta readers, had malfunctions and more battery consumption for no apparent reason reported by the system. Now no problem, let's have a Mac with an Intel or M1 chip.