Instagram has changed its rules for users: in the new guide for its "creators" or content creators, it states that it is making changes to its algorithm with the aim that the Reels videos that have the watermark of TikTok or another social platform have less visibility facing his followers.
Specifically, what the social network has done on its @creators profile a few hours ago is to publish recommendations on what to do and what not to do to have visibility with other Instagram users. Under the title "Tips to be discovered in the Reels tab" recommends not publishing Reels that are "visibly recycled from other applications (that is, they have logos or watermarks) ".
"Users have a less satisfactory experience" with recycled videos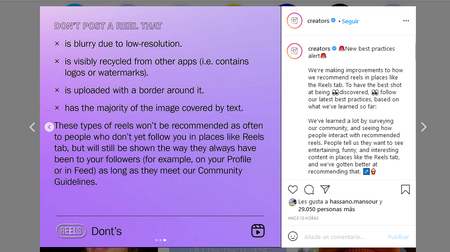 What is the official reason for removing visibility from TikTok videos posted on Instagram? According to the spokesmen of the social network, they say in their profile @creators, "we have discovered in research that users have a less satisfactory experience when viewing recycled content from other applications or blurry and low resolution. Therefore, we are making this content less visible within the Reels tab ".
Remember that Reels appeared in the summer of 2020 as a new format for sharing video with an interface very similar to the successful TikTok. Just like four years before, Instagram replied to Snapchat with its Stories (content that is deleted after 24 hours), the social network based on videos and photos launched its counterattack on one of the most popular platforms in 2020. Reels allow you to post short videos of up to 15 seconds with music and effects.
They are permanent and public videos that appear in your Discover and that are accessible to all the public. Reels contains creative tools including stickers, augmented reality effects and music, to the insertion of your own original audio, changes in the speed of playback, alignment of objects and timer.
It will be necessary to see if there is a replica on the part of the Asian platform and if this could affect them: it must be taken into account that in a year, Stories managed to dethrone Snapchat with its own format. OR it can also happen that it harms you And there have also been many projects of the giant Facebook that have ended in a real failure.
Other Instagram recommendations to have visibility on your Reels
In addition to knowing that the videos previously made with TikTok will be more hidden from the public, Instagram launches a series of tips that will determine, from now on, visibility of the future content that users will make for Reels.
What you recommend to do: Fun and entertaining content that makes people laugh; be inspirational and start a trend that encourages others to participate in it; use creative tools like text, camera filters or effects; make the videos in portrait format (says horizontals are not so easy to recreate); use music from Instagram's own music library, original audio or one offered by Reels; and generally do something new.
What is not recommended to do since Instagram will reduce your visibility to the public- Blurred or poor quality content; that have a frame or border around them; that the majority of the image is covered with text; and the watermarks already mentioned.