Pluto TV arrived in Spain a few months ago with its exclusive HD channels for watch series, movies, sports and more, all free and without even the need for registration. Although Pluto TV has apps for Apple TV, Android TV, iOS, and Android, you may be more interested in integrating it into your own media center of choice.
If that multimedia center is the popular Kodi, then already Pluto TV has its own addon so you can enjoy the content directly from there, no matter what device or operating system you use Kodi.
How to install Pluto TV addon on Kodi
The Pluto TV addon is the work of Lunatixz, a creator who has under his belt a long list of addons for Kodi. Its installation is very simple since it's in the official Kodi repositoriesso you don't have to do too much.
From the Kodi start select Add-ons in the side menu on the left.


Then select Download.


Choose Video add-ons.


Browse through the list until you get to "P" and click on Pluto.TV:


Once you select it, you will see the description of the plugin, screenshots, and its size. If you click on "Dependencies" you will see many things necessary for the addon to work, but just click on Install so that everything is installed automatically.
Kodi may ask your permission to install other add-on addons during the process, and you should always say yes. As well You may be asked to install other plugins when trying to access live content on Pluto TV.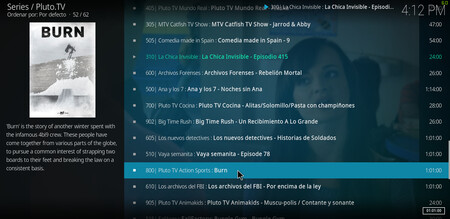 With this plugin you have access to all types of content on Pluto TV and its operation is quite good, especially if you use Linux and have been having playback problems with Pluto TV directly from the browser, with Kodi the video playback is much more fluid .