The latest update to Action Launcher, currently in beta, introduces a very attractive novelty for all Android users who love widgets: the new interface allows group widgets and then switch between one or the other with the swipe of your finger.
Widgets have been in Android almost since the beginning of its development, it is not an element that is precisely strange to us in our system. And with iOS 14 Apple decided to introduce the widgets on the iPhone desktops so that its users could access the information in the applications without having to open them. Of course, there is no doubt that Apple innovated thanks to one quality: the widget grouping. Google has no plans to introduce it to Android, but there is already a way to achieve it: Action Launcher.
More than twenty widgets in one
The new Action Widget function is available in the Pro version (you have to pay) to bring all the widgets to the same desktop and without having to fight for space. For it, the application is inspired by iOS 14 enabling vertical swipe to jump between one widget and another. And there is room for a huge amount of elements, we have placed more than twenty without having found a limitation in their number.
iOS 14 allows you to create groups of widgets by simply dragging one over another. This simple mechanic is not the same as in Action Launcher: the app requires a somewhat more complex process.
Once the application is installed (at the moment in beta) you must press and hold on a hole in the desktop and choose the 'Widgets' option.


Select the first of those available: 'Widget stack'. It is the one that allows stacking the elements.


Once the option is added to the desktop, click on 'Tap to add widget' to add the first one. Stack is suitable for widgets up to 5x2.


Keeping pressed on the added widget until the 'Add widget' option pops up. Select the second item.


Repeat the process until you create your widget stack: you can add whatever you want.


To move between the elements, slide with your finger vertically: you will move between the list in order.


If you want to remove a specific widget, hold down on the stack and click on 'Remove widget'.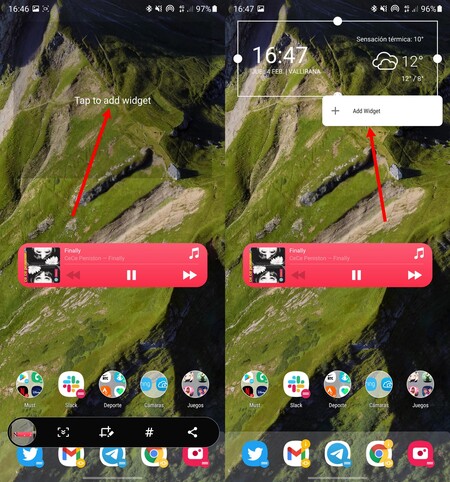 The operation of the new option is adequate, we have not encountered any problems. It is very similar to iOS 14 and we only run into two drawbacks (in addition to the Pro version being essential): when the widget itself has scrolling (such as Gmail emails) Action Launcher no longer allows jumping to another item within the stack; and if too many widgets are added the consumption of the phone rises.
To use the new stackable widgets you need the latest version of Action Launcher. At the moment it is in beta: You must activate this beta from the application tab on Google Play; you can also access this link.
Action Launcher