Samsung Galaxy S21 Exynos vs Snapdragon: which of the two models is better?
One more year, Samsung has done it again: the Galaxy S21 mount a different processor depending on the market in which they are purchased. In regions like the United States, Samsung opts for the Qualcomm Snapdragon 888, while in Europe we find the Exynos 2100.
And, also every year, it is time to ask yourself the same question: Which of the two processors is better? Now that we have been able to thoroughly test and analyze the S21 Ultra, the reference model of the S21 series, it is time to determine if there really is a better model than another as was the case in previous years.
Exynos 2100 vs Snapdragon 888: more similarities than differences
Samsung presented its new generation of high-end processors under the motto Exynos is back, referring to the criticism collected over the last few years by offering less powerful and efficient Exynos processors than its Qualcomm competitors.
And it is that in this generation, Samsung has chosen maintain a much more similar architecture to the processor of the Californian Qualcomm. So much so that the technical specifications of both processors are practically traced.
Specifications
Samsung Exynos 2100
Qualcomm Snapdragon 888
CPU
1x Cortex-X1 @ 2.9GHz
3x Cortex-A78 @ 2.8GHz
4x Cortex-A55 @ 2.2GHz
1x Cortex-X1 @ 2.84GHz
3x Cortex-A78 @ 2.4GHz
4x Cortex-A55 @ 1.8GHz
Process
5nm
5nm
GPU
ARM Mali-G78
Adreno 660
RAM
LPDDR5
LPDDR5 / LPDDR4X
AI / DSP
Tri-core NPU
Hexagon 780
(Fused Scalar, Tensor, and Vector)
Modem
4G LTE
5G sub-6Ghz & mmWave
7.35Gbps download
(integrated Exynos 5123)
4G LTE
5G sub-6Ghz & mmWave
7.5Gbps download
3Gbps upload
(integrated Snapdragon X60)
It is striking that Samsung has chosen offer cores capable of running at a higher clock frequency, including those for energy saving. Especially since, in the past, the company's processors were blamed not be so efficient like the Qualcomm models in that regard.
But most striking of all, is Samsung's decision to put aside their own nuclei, known as Mongoose, to make way for the ARM X1 architecture, thus reducing even more the differences between its flagship processor and Qualcomm's.
Be that as it may, after all that's just numbers. What about the results?
Through various test of performance carried out by the people of Android Authority it has been determined that, One more year, Galaxy S21 models with Snapdragon processor are faster than the Exynos chip variant.
However, it is very clear that Samsung has made great strides with its latest platform, and the differences this year are much smaller than in previous generations.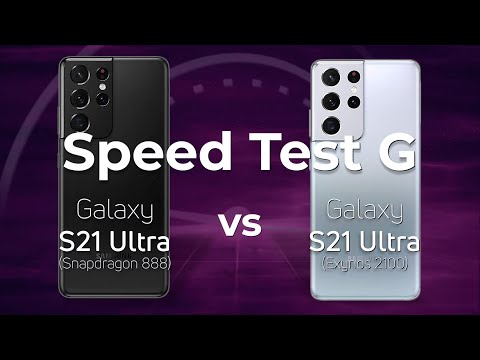 In fact, the only appreciable differences refer to the graphic performance when it comes to heavy tasks, partly due to the extra power of the Adreno 660 GPU versus the ARM Mali-G78.
There is no doubt that company is on the right track, and that these differences in graphics performance could be left behind forever once the company starts use GPUs developed with AMD Radeon technology. Something that, according to the brand itself, will happen very soon.
So, if you're thinking of buying one of the new Galaxy S21s and only have access to the Exynos chip variants, at least you can rest easy knowing that your experience with the device will not be clearly inferior to those with access to models with a Snapdragon 888 processor. It seems obvious, but unfortunately we could not say the same about the models presented in previous years.