A password manager is, fundamentally, an encrypted digital store that securely stores login information for various online services. Starting from this basic concept, we can add features that reinforce its usefulness: synchronization between devices, master passwords, etc.
There are a large number of them on the market, although users who try to resort to free alternatives have fewer and fewer options: the best freemium options on the market (such as LastPass or 1password) tend to increasingly reduce the utility of its free versions to redirect customers to paid ones.
So, for this comparison, we have chosen those alternatives that are either totally free, or that have free versions without relevant limitations of functionality.
Bitwarden
Bitwarden is one of the users' preferred alternatives to the freemium leaders in this sector, like LastPass (from which you can successfully import passwords).
And it has achieved its popularity as an open source application; Its free version has no limitations when it comes to storing passwords, notes and credit cards. But, above all, it stands out for give the option of local data storage.
Thus, any owner of his own secure server will be able to keep his passwords close to himself and away from the cloud, which has repercussions in favor of their safety.
For: Windows, MacOS, Linux, Android, iOS, browsers (Chromium, Firefox, Safari, Opera) and command line.


KeePassXC
KeePassXC is another open source password manager available on a multitude of platforms, powerful, customizable and 100% free.
It gives us full control of our data in exchange for offering a slightly steep learning curve. For data synchronization, we can use platforms like Dropxbox / OneDrive or similar, or to share files within our local network.
For peace of mind for the privacy-loving user, KeePassXC is supported by the Electronic Frontier Foundation, an American entity that defends freedom of expression in the digital sphere.
For: Windows, MacOS, Linux and browsers (Chromium, Firefox, Safari); Unofficial ports for Android, iOS and Chrome OS.


LogMeOnce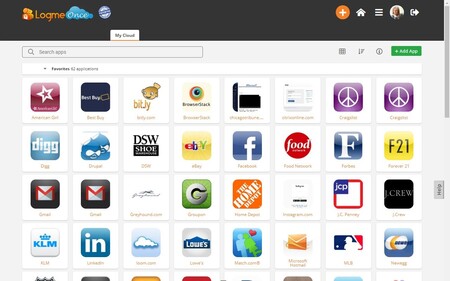 LogMeOnce is an online password manager (accessible from a browser) perhaps less well known than its rivals, but it does have some very cool features. In fact, it is an app that tries to go beyond mere password management...
... adding aspects such as automatic form filling, credit card storage (maximum of 3 in the free version), editing and secure storage of notes (limit of 3, too). We can have password synchronization between as many devices as we see fit.
Its PhotoLogin function, on the other hand, allows us log in without resorting to a password: we only have to use the webcam to send a photo of ourselves to a previously indicated smartphone and confirm that we are ourselves.
For: Windows, MacOS, Linux, iOS, Android and browsers (Chromium, Firefox and Safari).


Zoho Vault
Zoho Vault is part of a broader set of business tools, but its developer company allows your password manager is free for personal use.
Yes indeed, we will not find in this application some functionalities common in competition, such as form filling. However, we will continue to count on password synchronization between various devices.
For bliss synchronizationUnlike other available alternatives, we will only have the option to host our data on Zoho's servers ... but it is also granted to us the option to export them for offline access or for export to another service.
For: Windows, MacOS, Linux, iOS, Android, Windows Phone and browsers (Chromium, Firefox, Safari).