Adobe Creative Cloud is currently the Adobe service that gives users access to graphic design, video editing or photo retouching programs that we all know: Photoshop, InDesign, Illustrator, Premier Pro, or Lightroom. These are probably the most popular shows of this suite room and a sort of standard in their respective industries.
However, despite its popularity, there is life beyond Adobe and free alternatives to all of these programs. Applications that, despite being different and not offering exactly the same features, are an option to take into account because they have functionalities that can serve us and, furthermore, be completely free.
There is life beyond Adobe and free alternatives to all these programs
If you don't know the alternatives to Photoshop, InDesign, Illustrator and other Adobe programs, keep reading us.
Alternatives to Adobe Photoshop
Photoshop, the quintessential graphic and photo editing software, is the king of its segment. Of that there is no doubt. But it also has rival programs that, despite not being surely at their level, do offer an optimal and sufficient alternative for many users.
The best known of them is GIMP, which recently turned 25 years old as one of the main references when you think of free and open source image editing software. Other great option for its simplicity of use and relative power is Paint.NET, an application that recently received a major update including support for the AV1 format. Finally we have a third alternative, Photopea, especially recommended for occasional use (or not) since it is an online graphic editor, one of those free web applications so good that they can replace the software we usually install.
Alternatives to Adobe InDesign
InDesign is defined as "the industry's leading page layout software for print and digital media", although its uses can go further. And like so many other Adobe programs, it has before it different alternatives that can adequately satisfy the demands of users interested in this type of graphic editing.
Canva is surely most popular for its ease of use and versatility, since it allows us other uses, even if it does not have the sophistication of the Adobe program; Scimbus is another option, a layout program initially developed for Linux that, in addition, it is open source; lastly, Lucidpress is an online solution that, despite offering payment plans, can be used for specific jobs thanks to its free plan.
Alternatives to Adobe Illustrator
Adobe Illustrator is a pretty standard vector graphics editor. But, again, there are alternatives for it and the ones we review below are not bad at all. His followers testify to this.
Inkspace is surely the first name that appears when we think of alternatives to Illustrator, a fairly widespread open source solution with versions for the main operating systems; Vectr is another interesting free alternative —and online- which offers us the creation of vector graphics in a fairly simple and intuitive way; finally, Boxy SVG, a tool that claims to want to be the best for its segment proving useful for both professions and beginners.
Alternatives to Adobe Premier Pro
Adobe Premier Pro is, again, a leading program in its segment. Allows professional video editing for all types of productions, even professionals for television or cinema. It is very powerful, a huge rival, but it has alternatives around it for those looking for perhaps less ambitious applications, but equally effective.
Avidemux is one of them, a free, open source and cross-platform video editor, one of the best known among the Linux community; Lightworks is another very interesting and powerful option that, Despite offering paid versions, it allows its use with almost no limitations beyond not allowing the export in 4K or UHD; finally, a third option with which to replace Premier Pro can be, for much easier, walk-around, and quick editing, the own video editor for Windows 10.
Alternatives to Adobe Lightroom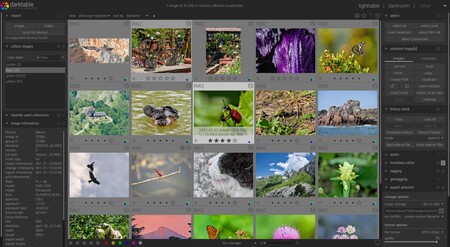 Adobe Lightroom, for the less versed in photography, is a cloud service that create, edit, organize, store and share photos on any device. And it is, especially, a Swiss army knife for photographic editing with which to make the most of snapshots.
To supplement this digital development application, to call in some way the process that we can carry out with it, we have alternatives such as Darktable, an open source program with similar functions And the plus is that it is easier to use and includes RAW file processing; Lightzone is another open source, cross-platform option that can also handle RAW images and it offers some pretty cool workflows; the third option is Capture One Express, ua more limited solution than the previous ones and Lightroom, but which can satisfy the essential needs of the majority.
Alternatives to Adobe XD
Adobe XD may be the most unknown solution we talked about in this article, but it is an application well known by designers dedicated to the digital world because it is a fast and powerful tool for designing experiences and user interfaces for websites or applications.
And are there alternatives for her? Of course. Figma is probably the most interesting, a solution that we use through the browser and is perfect for designing interfaces, also having a generous free plan; Invision is another good option, a digital product design platform that promises to generate the best user experiences; finally we cannot stop commenting on Framer, a all-in-one tool to design user experiences and prototypes in an agile way.