Get link

Facebook

Twitter

Pinterest

Email

Other Apps
We chose the best keyboard applications for Huawei mobile phones, both for those who have access to Google Play and for those who do not have Google applications. Perfect for writing on WhatsApp or Telegram, for typing on social networks or to take notes.
Writing on the phone is such a basic task that there is no mobile that lacks an app designed for this purpose. Of course, it is not always the most appropriate since it may happen that you need more functions, that the keyboard surface does not adapt well to your screen or that you simply prefer other possibilities. And it is just what we have proposed: to offer you alternatives to the keyboard that comes by default on your Huawei mobile.
Gboard
The Google keyboard, which usually comes by default in most Android phones, offers a multitude of configuration options: from themes to modifying the size and even possibility to use it in a floating way. It includes a multitude of extra services, such as loading custom Gifs and Emojis. And it has a powerful clipboard so you don't lose anything that is being copied.
Gboard can be easily installed from the Play Store on Huawei phones that have Google apps. Otherwise, the best way to install it is from Aurora Store or by downloading the file from Apk mirror: Gboard is not in the App Gallery. Despite what it may seem, the Google keyboard works perfectly on mobiles without the services of this company. Yes, there are some functions that depend on the Internet, such as personalized stickers.
Gboard: the Google keyboard
Chrooma Keyboard
Another of the keyboards that join the podium in this type of apps for Android. Very powerful, versatile, with the ability to change skin thanks to countless themes and, above all, it automatically adapts to the colors of the application where the keyboard is used. It works both by typing letter by letter and by gesture writing.
Chrooma works correctly on Huawei mobiles without Google services. It is not found in the AppGallery store, but can be easily downloaded from Aurora Store or Apk Mirror. Some functions do not work due to the lack of Play Services, but the keyboard itself, with its correction, gestures and typing when swiping, does not pose a problem.
If you have a Huawei mobile with Play Store, you can download Chrooma Keyboard directly from there.
Chrooma - Chameleon & RGB Keyboard
Fleksy Keyboard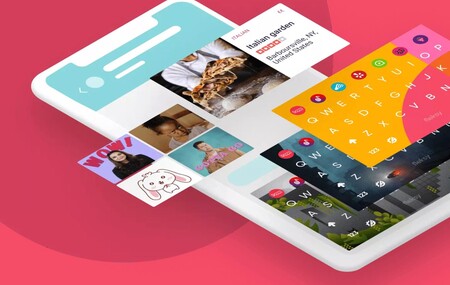 A highly customizable keyboard that includes remarkable options to change its appearance. Offers modules that can be added to complement functions, like searching for gifs or videos on YouTube (modules do not start without Google services). It has auto-correction, extensions with extra functions and much more.
As in previous keyboards, Fleksy works correctly even though the Huawei mobile lacks Google Play Services. Yes there are options that do not work, but what is the keyboard, writing and customization are in a functional state.
If you have a mobile phone with the Play Store, you can download Fleksy from the following link. If not, you have it in Aurora Store and Apk mirror.
Fleksy - GIF Keyboard, Emoji, Memes, Themes, Private
Microsoft SwiftKey

The default keyboard of Huawei phones is usually SwiftKey, one of the best apps of its kind, also one of the most powerful. There is no reason to change it since SwiftKey offers a truly complete user experience, even on mobiles without Google apps. However, if your mobile does not come standard it is always a good idea to keep it among the options.
Microsoft SwiftKey is a powerful keyboard with updated dictionaries and lots of themes to customize the keys. Offers gesture writing, excellent word prediction, allows you to adapt the size and shape of the keyboard and has advanced Microsoft features, such as translation. It also includes Google search.
Microsoft SwiftKey works on all types of Huawei phones, whether they have Google Play services or not. It is available in the Android store and also in the AppGallery.
Microsoft SwiftKey keyboard
We have tested all keyboards on a Huawei Mate 40 Pro with EMUI 11 and without Google services and apps. Its operation has been correct and without complications: all of them fully comply with what is needed to write from the mobile, as long as the relevant text has.
Get link

Facebook

Twitter

Pinterest

Email

Other Apps