The Huawei P40 5G has been one of the last great successes of the Chinese firm, at least a success as we knew it before the controversy with the United States administration. A model that arrived with 5G connectivity and now, almost a year later, it reappears in TENAA but with a 4G chip, again thanks to the Kirin 990.
The Huawei P40 that we already know, was the first great model that did not have Google services and that was beginning to put Huawei's App Gallery to the test. Now, the brand is backing this model, with 4G connectivity and with Kirin 990 processor that we have already seen in the 5G model.
Again the Kiron 990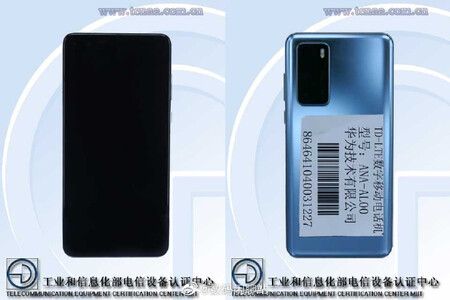 Now, a model with the ANA-AL00 certificate has appeared on TENAA, a fact that has been noticed in Digital Chat Station, a website that has shared the images on TENAA of the new Huawei smartphone.
A variant, this called ANA-AL00, whose main characteristic is that it is not compatible with 5G connectivity. A variant, this Huawei P40 that is also equipped with the Kirin 990 processor, a SoC that we remember, has variants for 4G and 5G connectivity and manufactured in 7 nm, it was launched in September 2019.

[embed]https://www.youtube.com/watch?v=nbpuq-Ltb7c[/embed]

It has rained since then, and Huawei seems to still have stock of its well-known processor to mount in this kind of rehash. A model that otherwise seems to maintain the measurements (148.9 x 71.06 x 8.5 mm) of the previous model, with the same 6.1-inch screen with 2,340 x 1,080 pixels and a 3,800 mAh battery.
Of course, the leaked images of the phone in TENAA are not clear and the whole screen cannot be seen well and cameras mounted on the rear module.
And is that the P40 is, more than a model, a whole family, which since its arrival, has seen a Lite variant arrive with 5G or a P40 Pro that can already be found in Spain. A movement that draws even more attention if we think that the Huawei P50 already warms up engines, being the first model to opt for HarmonyOS to put Android aside.
Via | Playfuldroid