Get link

Facebook

Twitter

Pinterest

Email

Other Apps
We face two of Xiaomi's cheapest terminals face to face, what is the best option?
Xiaomi's catalog is one of the most crowded on the Android scene. Every few months we get to know new devices - many of them quite similar - so deciding on one can be a real headache. During the last times we have been comparing many of them to make your decision a little easier.
This time we face two of Redmi's smartphones to answer a question, which of them is the best buy? On the one hand the Redmi 9C, one of the most economical options of the firm. On the other, the Redmi Note 9, a member of one of the most successful families in recent times.
Design and display
The Redmi Note 9 arrives with a 6.53-inch IPS panel and Full HD + resolution. Its front is well used and its rear, made of glossy plastic, comes with several color options. It is quite rounded, so it is pleasant to the touch and comfortable in the hand.
Switching to the Redmi 9C, we come across again a plastic body and an even more colorful palette of options. As we have said on more than one occasion, plastic should not be taken as a bad material, since it has advantages such as weight and greater resistance to shocks. Moving to the front, the Chinese terminal incorporates one that repeats with 6.53 inches of diagonal, but that goes down to HD + resolution. Accompanies a little notch in the form of a drop.
Cameras: one more sensor for the Note
He Redmi Note 9 arrives with 4 sensors on its back: a 48 megapixel main sensor, a wide angle 8 megapixel, a macro sensor 2 megapixel and a camera for the portrait mode also 2 megapixels. On the front, a 13 megapixel camera. As you can see, a configuration that we have seen repeated in many devices in recent times.
He Redmi 9C it's not much more original either, though loses a sensor compared to its opponent: we met with a 13 megapixel main camera, a macro sensor 2 megapixel and a sensor for the portrait mode which repeats with 2 megapixels. In the notch of its front, a 5 megapixel sensor.
Battery: two good autonomies
The Redmi Note 9 houses a battery of 5,020 mAh and one 18W load. The smallest of the Redmi incorporates a battery slightly more modest, of 5,000 mAh, and one 10W load.
The latest editions of the Redmi Note family have shown good numbers in terms of autonomy. The Redmi 9C, on the other hand, and considering that its panel has a not too demanding resolution, it also promises more than satisfactory hours of use.
Processor and memory: signed by MediaTek
The brain of the Redmi Note 9 is the Helio G85 manufactured by MediaTek. It's a 12-nanometer, 8-core processor that moves at a maximum speed of 2 GHz. You can find the Chinese terminal in versions of 3 GB and 4 GB of RAM and two storage options, 64GB and 128GB. On the other hand, we find the Arm Mali-G52 MC2 as a GPU.
The Redmi 9C houses another of MediaTek's processors, in this case the most modest Helio G35. It is a 12 nanometer octa-core with Cortex-A53 cores. The Redmi smartphone arrives with versions of 2 GB, 3 GB and 4 GB of RAM memory, 32 GB and 64 GB of internal memory. Its GPU is the IMG PowerVR GE8320.
Connectivity: the difference is in the NFC
The two Chinese smartphones arrive with what we find in most terminals. Dual SIM, Wi-Fi Direct, LTE, and all the basic features we could expect. We are before 4G devices, although 5G does not have much left to reach terminals as cheap as these.
They also coincide with bluetooth 5.0, although the differences arrive in the section of the NFC connectivity. The Redmi Note 9 is the only one that enjoys this technology, which allows you to pay in all types of establishments together with applications such as Google Pay and transfer files easily and quickly.
Xiaomi Redmi 9C vs Xiaomi Redmi Note 9, which is the best option?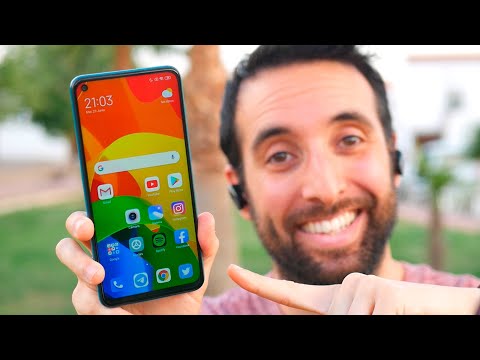 There is no doubt that the Redmi Note 9 is a better device than the Redmi 9C, but this comparison was not about that. We tried to answer a question, which of them is a better buy? Is it worth paying less and opting for the more modest device?
Taking into account that we can find the Redmi Note 9 around the 170 euros on Amazon, it doesn't seem like 100 euros of the Redmi 9C are the best option. I think the difference between them is enough to make the leap and that users who do so will enjoy a better device for longer.
With the Redmi Note 9 you will gain in design, power, cameras and extras such as NFC. In general, it offers a better day-to-day experience and I think it is worth opting for it despite the difference in price. In any case, both terminals are a good buy.
Get link

Facebook

Twitter

Pinterest

Email

Other Apps