Get link

Facebook

Twitter

Pinterest

Email

Other Apps
Web applications have been around for many years (so long that Jobs wanted them to be the only ones on the iPhone), and without a doubt milestones such as the goodbye of Flash and the appearance of HTML5 made it possible to have much more powerful websites, and that at the same time consumed much less resources in the browser in which they were loaded.
To this day, web applications continue to evolve and acquire new forms, as with progressive web applications (PWA), but in some cases they have made such great leaps compared to what was available, that in several cases, can completely replace advanced desktop software. Let's look at some examples of this, and of webapps that simply impress with their power.
Photopea
Photopea is an online image editor that simulates the aesthetics and functions of PhotoshopTherefore, potentially, saving the distance, it can be considered a clone of the Adobe editor.
In my day to day, I use Affinity Photo, because for its price there is nothing better on the market in every way. However, when I have to edit an image on someone else's computer, or that I have just formatted, as happened a few days ago with my laptop, the truth is that Photopea works like a charm. And, according to its creator, for example, in Photopea there is full support for the PSD format, with support for filters and smart objects, layer styles, etc.
As for supported formats, there are PSD, XD, Sketch, RAW in its different forms, XCF and the classics. Your biggest problem? Depending on the file we are working with, it can be a slow tool.
Polarr
Polarr is an old well-known and complete online image editor, and it also has applications for iOS, Android, Windows and macOS. Its inclusion in the list has to do with the fact that, in my opinion, is also at a high level in terms of editing.
Although Polarr has been able to open and edit RAW files in previous versions, its developers are currently working on it, but have disabled this feature. Even so, Polarr can be a great option if we want something other than the classic Photoshop look.
Polar
They have a name similar to the previous one, but there all their similarities end. Polar is an ideal web app for people dealing with lots of PDF documents, e-books and articles in general, as students, since it allows making annotations and notes on these formats. It provides organization with filters and labeling, progress charts, etc.
The free version allows up to 100 documents and 350 MB, in two devices, more than enough if according to the time we are emptying the repository. If you are more interested in working locally, you can download their applications for Windows, macOS or Linux.
Figma
If Photopea is a great alternative to Photoshop, Figma is an application for team interface design that, by the way it works, It can replace Adobe XD, Dropbox, Zeplin and Invision at once.
Curb other web applications of this type with vector tools, Figma also offers a layer of real-time collaboration that speeds up and facilitates teamwork enormously. Some companies that use Figma are Twitter, Slack, Microsoft or Dropbox. Figma is free for up to two people and three projects, with a history of up to 30 days.
Zencastr
Zencastr is a simpler web application than the others that we have reviewed, but it can also help to replace tools that are normally installed, and above all, that can be crucial in recording podcasts.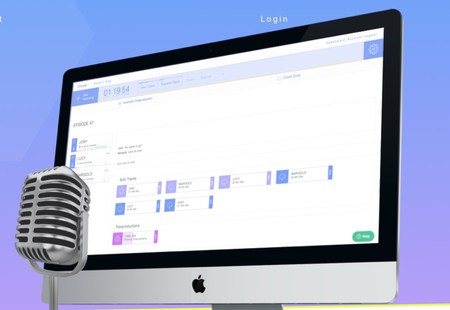 Usually, If a podcast is not recorded with people face to face, it requires that Skype or the alternative we use be installed, along with another application that records our audio track in local. Generally, it is an uncomfortable process, because you have to agree on tools for the call, explain how to record the audio locally (install Audacity, record with Quicktime, etc) ...
With Zencastr, all steps up to editing are resolved, because the same service enables the call and the recording of the audio locally, with the tracks of each podcaster separately. It also has a paid version, but for people starting out on two two-person podcasts, the free plan is ideal.
Music streaming
Except for Apple Music, which has its website in beta, all the big streaming services have more or less complete websites, and that depending on the case they can make us stop installing their applications, or install them as PWAs.
This is the case of Spotify, Tidal, Qobuz, Deezer, Google Play Music, or YouTube Music, there are websites from which you can enjoy almost all the functions of desktop clients (of which there are officially, which are not all) . Like big losses, we do not have the ability to download files to listen offline, and we say goodbye to being able to play music in high resolution, something that Qobux or Tidal sell as their great advantage over the rest.
Soda PDF
If what you want is to convert PDF files, join, sign or divide them, Soda PDF tools are the best on the internet for free. With advertising, of course.
Besides PDF, it also allows you to convert images: from PNG to JPG and vice versa, from GIF to PNG, from BMO to JPG, from JPG to GIF, etc.

Office suites
For many people, suggesting alternatives to Microsoft Office is a real madness, as they consider that there is no word processor as advanced as Microsoft Word, nor spreadsheets as advanced as Excel. Whether it's true or not, the reality is that many people have long opted for Google Docs / Drive in its document, spreadsheet, and presentation variants.
Perhaps the comfort and power of its use is not the same as that of the mythical Microsoft suite, but its ubiquity, convenience and gratuitousness make many of us opt for this solution. You also have to remember how extremely easy it is to now create any kind of Google documents.
If you prefer to stay in something closer to life, precisely Microsoft also offers Office online for free, ideal to complement with a Microsoft account and applications for smartphones and tablets. Although the improvements arrive earlier to the paid versions, It will be interesting to see what this decade brings to online office automation, because potential exists all over the world.
Bonus: Google Earth Studio, the jewel in the crown
Although it will not have as productive uses in principle as the rest of separate applications, we could not finish without paying tribute to what it is one of the most powerful web applications we can find, Google Earth Studio.
It's also one of the most compelling web apps I've ever seen. This is, essentially, a full on 3D editing suite for Earth. pic.twitter.com/MQ59xky5xe

- Owen Williams ⚡ (@ow) November 19, 2018
It is absolutely impressive what Google has been able to build for a browser, no matter how advanced tools have been developing for years. Although it will not work for any user on a day-to-day basis, Google Earth Studio can be very useful for creators of content, television shows, etc. Yes, although its use is free, you have to request access to Google, With registration.
Get link

Facebook

Twitter

Pinterest

Email

Other Apps