Get link

Facebook

Twitter

Pinterest

Email

Other Apps
It has not been officially presented and the LG Rollable is already the star of a CES 2021 where we have been able to see it on video for the first time ... Do you want to see what LG's roller mobile will be like?
We had already leaked him in renders previously, and in fact it is that despite the efforts of both TCL and Samsung or the anticipated presentations of OPPO, the entire industry assumed that It was LG who had the most advanced roll-up smartphone project, the unpublished and unknown Project B that today has been made official - glancingly, yes - at CES 2021.
Will be called LG Rollable and has been seen in a video teaser that the South Korean manufacturer has published in the framework of the Las Vegas fair, anticipating that your arrival is closer than we thought, and that indeed LG lost the race for folding mobile phones with a clear purpose, which was to focus on these roll up designs that critics have enthusiastically welcomed.
And that joy is not trivial, because certainly and as you will see, the design is very clean and closed gives the feeling of being an absolutely normal mobile, surely thicker and heavier, but without major differences that we do notice in a Galaxy Fold, for example, giving the feeling of being two smartphones "stuck" by the hinge.
In fact, these types of designs also avoid the large mole of the folding ones, and that is we won't see a fold by having the winding mechanism hidden at the ends of the device, being also, without trying them, surely more comfortable in daily use.
It seems to confirm that LG's 'Project B' was the most advanced rollable mobile, and this already (almost) official LG Rollable could arrive very soon with a cleaner design and a much more polished hybrid experience.
The LG Rollable 👀 pic.twitter.com/XwcukrCIWx

- Joshua Swingle (@JoshuaSwingle) January 11, 2021
The LG Wing will therefore not be the only special device that we will see from LG in these times, and it is that many media such as PhoneArena speculate that they could even make the official Rollable in this same first quarter of 2021, without dates yet and without much more information about a terminal called to bring LG back to the forefront From the market.
And putting more emphasis on what the South Korean manufacturer would propose to us, it seems that again we will see a hybrid between the experience of a smartphone and that of a tablet, but leaving the feeling that indeed both experiences will be more polished due to the clean design, almost normal, and the mechanical device that unfolds flexible screen automatically and that gives the feeling of operating in a comfortable and spectacular way.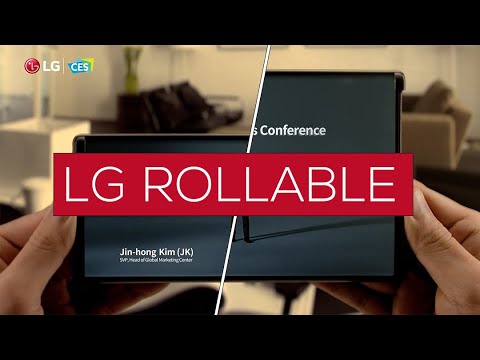 LG would be the first to shoot in the 'roll-up' market, already in March of this year 2021
If a 15 or 20 second video has left us such a good taste in our mouths, it is precisely because those of us who have tested the current Samsung and Huawei folding devices understand that this is undoubtedly the future of the mobile industry, but we had the need to polish this hybrid experience by avoiding folds and annoying designs that require constant opening and closing.
Furthermore, we know that also TCL, OPPO, Samsung and even Huawei were exploring these rollers in recent months, though LG would speak before anyone else introducing the Rollable already in March 2021, as long as expectations are met and the rumors left by sources close to LG in the CES environment are true.
Unfortunately, as often happens, important details such as information about your hardware and its prices are missing, which will be very high as you expect, much less do we know their availability that surely will not be before summer nor in a massive way globally.
Whatever we have seen we like it a lot, so We will be waiting for what LG can teach us soon because this LG Rollable looks too good to lose sight of ... Don't you think?
Get link

Facebook

Twitter

Pinterest

Email

Other Apps