Get link

Facebook

Twitter

Pinterest

Email

Other Apps
Since it appeared there in 2016, the 'Discovery Weekly' playlist that Spotify arms us with 30 songs every week, has become an ever-present form of discover new music for many of its users.
However, there are weeks when some of us tend to listen to more music than usual, and there are times when the songs of the weekly Discovery are not enough, or they fall short in quality, even if they are "chosen according to our tastes". For those who want more and in a similar style, here is Discoverify.
Personalized daily discovery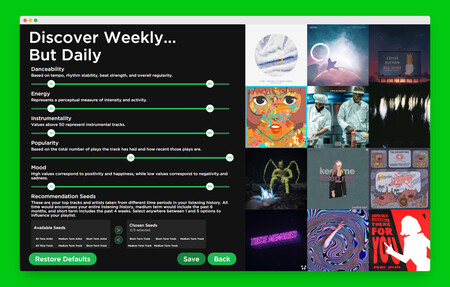 Unlike Spotify's Weekly Discovery which is made based on whatever algorithm you might like, and which tends to change based on what you heard the week before but it always seems to play the same kind of music and traps you in a bubble, the "daily discovery" of this website offers you customization options.
The playlist will also be 30 songsbut instead of changing every Monday, it will change every day with 30 new tracks. You will choose these according to your listening history, but also according to certain parameters that you can customize.
30 new songs every day appear automatically on your Spotify, chosen according to your history and your preferences
Those parameters are how acoustic a song is, how danceable it is, energy level, popularity, "mood", and whether or not they are instrumental. This you choose it with a scrollable meter that you can move from 0 to 100. And you do it at the beginning when you connect Discoverify with your Spotify account, but you can modify it later at any time.
Once you generate your Discoverify, the list will automatically appear in your playlist section under the name "Discover Daily". The list is likely empty at first, but it will populate with all 30 songs in less than a couple of minutes.


Share

Discoverify is like Spotify's weekly Discovery but with new music every day


Get link

Facebook

Twitter

Pinterest

Email

Other Apps