Get link

Facebook

Twitter

Pinterest

Email

Other Apps
Well, it seems that, indeed, the "folding" are for the old ... The future is "rollable" and Xiaomi also wants to be in it!
The market has spoken and it seems that all the news points to roll-up mobiles will be the next big thing, and also the main draw in 2021, of an industry that hasn't even taken on yet what are the current folding designs for like the Galaxy Z Fold2 or the Huawei Mate Xs.
All the players in the mobile market want to have their roll-up design when only three firms such as Motorola, Huawei and Samsung dared to launch a folding smartphone, and if the movements of Samsung or the Chinese TCL do not seem enough, the Project B LG seems very advanced and OPPO has even named a model X 2021 that has been presented in the prototype phase and could arrive in the coming months.
Is now Xiaomi who shows us his progress with a spectacular and interesting roll-up smartphone design -or extensible- which would be called My Alpha R and that the colleagues of MSPowerUser already teach us in renders thanks as always to the excellent Let'sGoDigital recreations.
The forgotten Mi MIX Alpha, now unfolds!
Obviously it's about very early development, surely a continuation of what was a Mi MIX Alpha fallen out of favor and forgotten in the drawers of a Xiaomi that did not dare to sell it, but would now move forward with that design of "360 screen" that could stretch to expand its size.
The sources say that Xiaomi's idea is none other than to show its muscle, putting itself at the forefront with an extendable smartphone design that avoid crease problem present on the screens of the Moto RAZR, Galaxy Z or Huawei Mate X, using these flexible OLED panels on a roll-up mechanism.
This would allow them to hide a part of the panel, thus maintaining that option of switch from smartphone to tablet but without those wrinkles, no duplication of screens or multiplication of cameras or other components that complicate the hardware.
As you will see the patent even shows sketches of how that roll-up system would work on a kind of rails, using a support behind the screen that would provide the expected rigidity in expanded mode, capable of almost doubling the available diagonal.
How would that mechanism work? Well it would be automatic and activated by a button, opening or closing the device to use it in its different formats.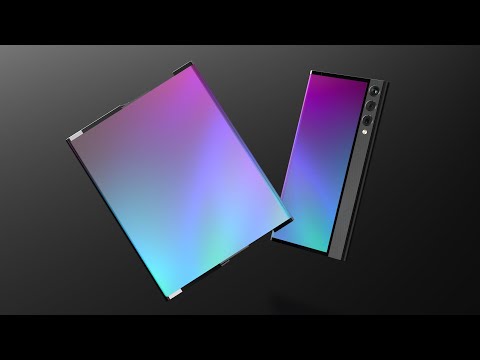 In addition, surely already in a display of possibilities, Xiaomi would also mount a second screen on the back of the terminal, giving it that aspect of the Mi MIX Alpha with a 360 screen that would offer various uses as a camera viewfinder thus avoiding the need for a front camera.
Obviously all this is speculation and we only know the sketches published with the patent, requested several months ago and recently approved, without details of the hardware and simply showing that, for its part, Xiaomi also relies more on these roll-up mobiles that in folding designs that we have also seen without coming to fruition
It remains to be seen if in 2021 we can already buy a roll-up mobile, but they will soon arrive and from various brands, so we hope that this competition will bring us at least more attractive prices than those shown by current folding mobiles ... Don't you think?
Get link

Facebook

Twitter

Pinterest

Email

Other Apps