Get link

Facebook

Twitter

Pinterest

Email

Other Apps
Two of Samsung's cheapest mid-range, head to head: Samsung Galaxy A30s vs Galaxy A20s.
Just a number in their name makes them different. At least with the naked eye. The reality is that between the Samsung Galaxy A30s and the Galaxy A20s there are more differences than we could imagine.
Are two of the cheapest phones in Samsung's Galaxy A series, and as such, are also among the most popular of its series. But which one is better? Today we wanted compare the differences that exist between these two models, to help you decide in your future purchase if you were evaluating either of these two terminals.
Design and screen: plastic and notch
As is usual within this category of Samsung devices, design is relegated to the background, and it is common to see how aesthetics are practically traced between terminals of similar price.
It is no different in the Galaxy A20s and A30s, where we find a plastic body of similar dimensions - about 16 centimeters high in both cases, and weighing less than 200 grams -, and with very similar aesthetic features.
What is not so similar is the screen. In this case, the Galaxy A30s has an advantage by incorporating a AMOLED display 6.4-inch diagonal, capable of offering a better result in terms of color reproduction, brightness and contrast than the 6.5-inch Galaxy A20s, based on technology LCD.
In both cases, yes, resolution is HD + and we did not find a high update frequency. In addition, they share another feature such as the existence of a "notch" in the shape of a drop of water that houses the front camera.
Cameras: three sensors with different leaders
And, speaking of cameras, we enter fully into the photographic section to find two systems that, although similar on paper.
The two models integrate three sensors on his back, one of them 8 megapixel ultra wide angle, and another depth of 5 megapixels. However, the main sensor is different for each device.
The Galaxy A30s mounts a 25 megapixel resolution camera, while the A20s makes do with a 13 megapixel sensor. Although, as we usually say, Numbers are not everything, in this case the point goes in favor of the A30s as it is capable of capture brighter, more detailed images than his younger brother.
There are also differences in the front, since the Galaxy A30s mounts a single 16 megapixel sensor, which in the case of the A20s reduces its resolution to 8 megapixels.
Battery and performance: autonomy by flag in the affordable mid-range
Another feature that we usually find in Samsung's mid-range terminals is high battery capacity, which gives devices a good autonomy.
In this case it is not different, since both terminals have a 4,000 mAh capacity battery that offers more than worthy results, thanks in part to the use of an efficient processor.
They also share charging technology, with 15W of maximum power admitted that offer a worthy charging speed, although far from reaching the level of the fastest technologies.
Processor and memory: same Exynos engine for these relatives
Eight cores and a maximum clock frequency of 1.8 GHz are the most important parameters of the Exynos processor that brings the Galaxy A30s and Galaxy A20s to life. In both cases we are talking about the same chip, accompanied by 3 or 4 GB of RAM, and a storage of 32 or 64 GB. However, there is the possibility of purchase the Galaxy A30s with 128GB of storage.
An important detail is the fact that both models support memory expansion via microSD card.
Connectivity: the essentials in the mid-range, with a significant lack
You will not find the latest advances in connectivity in either of these two models, but you can be sure that you can enjoy the essentials in that sense.
And the essential covers so much aspects such as USB Type C, included in both terminals, like Bluetooth –5.0 on the Galaxy A30s, and 4.2 on the A20s–, dual band Wi-Fi or GPS.
However, if you are thinking of make mobile payments, you better go for the Galaxy A30s. And it is the cheapest model lacks NFC chip, so it is not possible to use services such as Samsung Pay or Google Pay.
Other features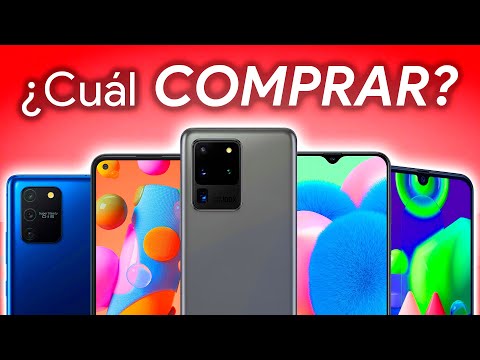 We have already reviewed the most important and striking differences between the Galaxy A20s and Galaxy A30s. But they are not the only inequalities present in the technical sheet of both models.
A very different detail that we can find refers to the position and type of fingerprint reader used. Because while the Galaxy A30s is committed to one more solution futuristic when incorporating the reader under the display glass, the A20s uses a more classic formula by having a Capacitive sensor located at the back.
Subjective opinions aside, the truth is that Galaxy A20s capacitive sensor can offer better experience being a faster and more accurate sensor than the optical of the Galaxy A20s. In addition, the fact of occupying a position behind the phone, makes it a easier and faster sensor to identify with our finger.
It must also be said that, on the way out, both models have Android 10 And they are scheduled to receive Android 11. The two, in addition, should do so in August of next year 2021.
Samsung Galaxy A30s vs Galaxy A20s, which is better option?
When your budget is tight, decide on a cheap mobile or another it can lead to more than one headache. That is why our idea with this comparison is try to clarify all doubts that may arise when choosing between the Galaxy A20s and the A30s.
Although both models share essential traits such as battery capacity, processor or physical appearance, the Galaxy A30s has an advantage in certain aspects, including the screen or photography.
Therefore, given that the price difference today is not too noticeable - the Galaxy A30s can be bought for around 180 euros, and the Galaxy A20s for around 150 -, our recommendation would be stretch the budget slightly and bet on the most expensive model.
Get link

Facebook

Twitter

Pinterest

Email

Other Apps