Get link

Facebook

Twitter

Pinterest

Email

Other Apps
It plays dirty Nokia, because it does it with our feelings by recovering classic phones like the 3310 or 8110 from the Matrix movie ... And now threatening this mythical modernized Nokia N95 that was finally discarded!
HMD Global's new Nokia likes it play with his mythical aura and our nostalgia, and it is that the Nordics have discovered what to do remakes of some of its most classic mobiles such as the Nokia 3310 and the Nokia 8110 of the Matrix saga is one of the keys to gain media presence and achieve good sales figures with a priori affordable cut mobiles.
They have not been the only reborn in the catalog of the old Nokia, and we have already seen an XpressMusic in the form of 'feature phone', and they will not be the only ones because the Nokia 6300 and Nokia 8000 are already in the oven, which should arrive very soon, although the truth is that the European manufacturer still has the subject of the most modern Android, and the commitment to a more determined high-end than not finishing arriving.
Maybe it wouldn't have been a bad idea remastering a phone as important to Nokia as the N95, once at the forefront of the market as one of the first smartphones with SymbianOS, something that was in the head of HMD Global according to GizmoChina, which presented us by the hand of Juho Sarvikas, Product Director at HMD, the sketches of this modern Nokia N95 that never saw the light but that we certainly would have loved to try.
This was the 'remake' from a mythical like the Nokia N95, but you won't be able to have it!
No doubt the N95 was one of the jewels of Nokia's golden age, using Symbian and serving as the embryo of what would come next, its most important feature was its sliding design that hid down a physical alphanumeric keyboard, and up the physical controls for multimedia playback.
It was a mythical device, so much so that a popular youtuber as Michael Fisher -AKA 'Mr. Mobile 'on YouTube- decided to do a report on his channel, something that prompted HMD Global to acknowledge that they were indeed studying a reissue of the model, sending Michael a prototype of a modernized Nokia N95 for you to test it: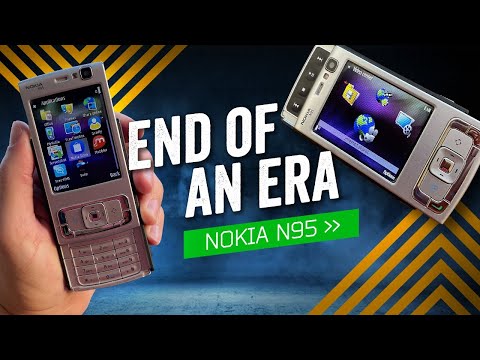 In the video the "new" Nokia N95 shown like something like a Nokia 3.4, with a triple camera and a fingerprint reader on the back.
Nothing far from the expected until we see its sliding design, which allows us to have a large speaker with Dolby audio as well as a wide-angle camera, an ultra-wide angle camera and a higher-performance LED flash.
In this prototype, in addition, there are surprises such as the removable ring around the rear camera module, which can be used as a smartphone holder, allowing the remastered Nokia N95 could be easily supported to enjoy music, video calls or our favorite series or movies as a desktop screen.
Check out this awesome piece on Nokia N95 from @theMrMobile! We looked at a remake of this icon and also considered a vertical slide concept but the major issue here was that you could not access cameras and the speaker at the same time. Check out the sketch. What would you do? https://t.co/uIHewym3YG pic.twitter.com/7WbUawT3ld

- Juho Sarvikas (@sarvikas) November 7, 2020
It looks very interesting, something new with refreshing ideas However, it takes us to another time, although the same Product Director of HMD Global, Juko Sarvikas, already warned us on Twitter that this device was finally rejected, leaving us to see also other sketches and other designs also the sea of ​​curious.
One of the designs studied shows a speaker that slides in the vertical plane, while other models reveal sliding mechanisms left and right to reveal the front cameras or a speaker that looks like it would again be the focus and differentiating feature in this remastering.
What Sarvikas did not confirm is that the terminal has been abandoned for a future still uncertain, especially knowing Nokia's taste for appealing to the classics, so it is possible that one day we will see this Nokia N95 on the exit ramp, something that we will undoubtedly like.
In any case, also we would like to see this new Nokia bet decidedly on a high-end Android that maintains its hallmarks, with this differentiating sound and the Zeiss lenses on your camera for the best multimedia and the best possible experience ... Who wouldn't want a Nokia like this?
Get link

Facebook

Twitter

Pinterest

Email

Other Apps