The National Library of Spain releases more than 30 million images that we can download and use for free
Get link

Facebook

Twitter

Pinterest

Email

Other Apps
Some days ago, the National Library of Spain (BNE) announced that as of November 1, more than 30 million images would be released from its archives.
That date has arrived, and that means that from now on any citizen can access, download, modify and share more than 220,000 titles of all types of documents, representing more than 30,000,000 pages from the Digital Hemeroteca and the Hispanic Digital Library.
Hoy entra en vigor la supresión del pago por el uso comercial de nuestras imágenes digitales en dominio público. Os invitamos a descargar, compartir y crear con ellas https://t.co/gAAAGciVFs pic.twitter.com/mljckNRxVe

— Biblioteca Nacional de España (@BNE_biblioteca) November 1, 2020
Historical magazines, maps or manuscripts at the click of a button
To do this, they have had to make updates to the platform, and thus be able to cope with the request for documents. Since yesterday we can download, share and modify the millions of documents that the BNE houses for free.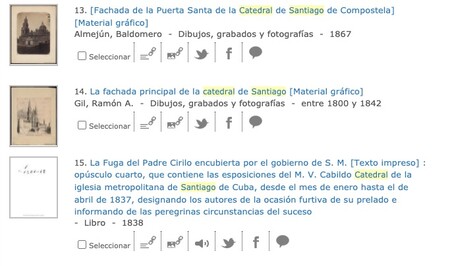 We can find thousands of manuscripts, maps, musical scores, newspapers, old books, engravings or historical magazines, which we can use in all kinds of projects without having to pay for it.



"Free resources to be used by the creative and cultural industries, by publishers, researchers, educational centers, but also by the general public for any use, including commercial".



Obviously, as the BNE clarifies, applies to those images in the public domain, not those subject to copyright whose content belongs to the owner of the rights (although it is possible to specify it in searches).
On both pages we have a search engine and different sections to "discover collections". It is really exciting and (in my case) when I realized it, I had been browsing this gigantic and amazing archive for longer than I had.


Share

The National Library of Spain releases more than 30 million images that we can download and use for free


Get link

Facebook

Twitter

Pinterest

Email

Other Apps