Get link

Facebook

Twitter

Pinterest

Email

Other Apps
Take advantage of these makeup apps and discover how to enhance your beauty with the help of technology.
There are thousands of makeup apps, but not all of them have what it takes to create makeup that is really good. However, there are certain tools that can help enhance the beauty of anyone. For that same reason, today we will introduce you 7 apps to learn how to do makeup with tricks, tips and tutorials.
When you download any of the following makeup apps, you can be sure that you will take your makeup skills to another level. It does not matter if you are starting in the world of makeup or if you have time doing makeup, all the tools on this list will help you improve.
Best makeup apps for Android
Youcam makeup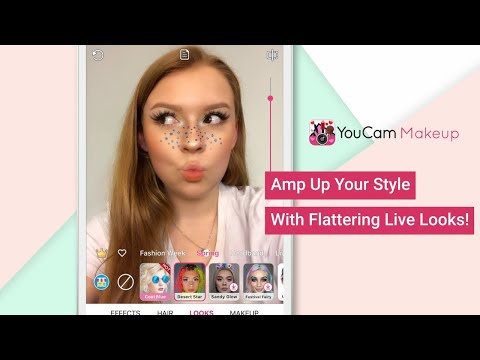 This makeup app has a camera so you can try different looks and modify them to your liking. Here you will have the opportunity to mix a variety of colors to customize your shadows, lipsticks, eyeliners and blushes. In addition, it allows you to import a photo from your gallery to save it, edit it and then share it on social networks.
If you like selfies, it is necessary to highlight that this app It has a filter to touch up your skin, refine your nose, contour your face, eliminate dark circles, add volume to the eyebrows and more. Just as you must be imagining, it is a perfect tool for makeup lovers.
Make up course
The name of this tool speaks for itself, as it is the perfect course for people who know little about the subject of colors, combinations and brushes. It's totally free and it's at your fingertips, just download the app from the Google Play Store to start perfecting your image by learning how to put on makeup and highlighting the best features of your face.
Professional make up
Professional makeup manual with ** hundreds of illustrations and full-color photos that will help you discover this wonderful world **. In these apps you will find a large number of beauty and makeup tips / tricks so that you can use all the products correctly and identify what type of techniques go best with your type of face and skin.
Learn makeup
Learn Makeup is an app that will allow you to discover how to use the different makeup brushes, how to carry out certain difficult techniques or what type of makeup suits your skin style best. It is a very complete course of 76 lessons divided into two sections: makeup and beauty. A makeup guide capable of enhancing your beauty!
Makeup
Makeupp is a tool that performs virtual makeovers using state-of-the-art technology, makeup simulation and makeover effects. Try thousands of cosmetics, colors and shades in seconds. In addition, you can also try more than 40 celebrity hairstyles, add accessories and much more.
MakeupPlus
MakeupPlus is the perfect application for you to take your selfie editing to another level. Get a complete virtual makeupFrom lipstick, contour and lashes, to eyebrows and your hair color, fake freckles and shine. Everything from your mobile camera!
Makeup Magic Face Makeover
This makeup app can beautify your image and change your style with one touch. Give personal photos a unique look using all the powerful functions of this tool and get great results.
Beauty tips for women / dfsn-box]
On the other hand, you should also take a look at these 8 augmented reality apps to try on clothes, makeup and even furniture before buying them. And if you like taking pictures a lot, check out this definitive guide to take perfect selfies and this app to take better selfies.
Get link

Facebook

Twitter

Pinterest

Email

Other Apps