Get link

Facebook

Twitter

Pinterest

Email

Other Apps
You don't know the curfew time in your municipality, what are the meeting limitations or if you will be able to leave the town on the weekend? The QueCovid.es website gives you all the information you need, with updated data and perfectly adapted to mobile. You only need to enter your zip code.
The coronavirus pandemic brought us confinement at the beginning of the year that gradually relaxed in phases until the so-called 'new normal' began. These phases led to confusion because they were not the same for all municipalities, provinces and communities, a difficulty that with the so-called 'second wave' is multiplied on several levels. Do you know all the limitations that your locality has applied? Finding out is not at all easy, which is why the QueCovid.es page is so useful: one query is enough to find out what can and cannot be done.
Write your zip code and QueCovid.es will show you the restrictions
It does not yet have a mobile application, but QueCovid.es does not need it either: its website is perfectly adapted to the screens of smartphones. It offers up-to-date information, the data is contrasted with the official gazettes of the autonomies and the State, includes detailed restrictions and allows to know instantly everything that can be done on a social and economic level. And everything that is not, obviously.
Once the web is loaded, you only have to enter the postal code where you live or the one to which you plan to travel during the next few days: QueCovid.es will tell you if travel is allowed, what time do you have to return home and if you can establish social meetings with more than six people; in addition to the rest of the key restrictions to stop the pandemic, such as whether you can open your business or night mobility is restricted. QueCovid.es is of great help for its simplicity and the reliability of the data. It is part of a non-profit project and lacks any type of advertising.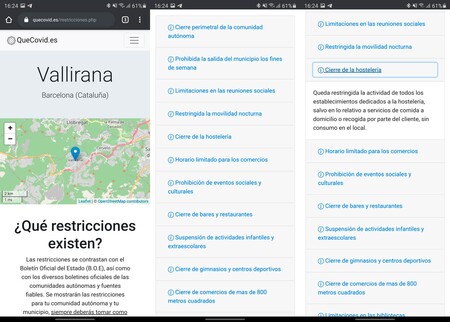 If you want to facilitate access to the web you can add it as a shortcut to the desktop of your smartphone. To do this, open QueCovid.es, click on the browser settings and add the page to the home page (as a direct access). Once you have it on the desktop, just click on the icon to access the postal code entry form.
More information | QueCovid.es


Share

Find out what coronavirus restrictions your locality has from your mobile and with QueCovid.es


Get link

Facebook

Twitter

Pinterest

Email

Other Apps