Get link

Facebook

Twitter

Pinterest

Email

Other Apps
Although now it may sound a bit like a meme, something a bit distant, the death of platforms like MySpace reminds us that services that are now gigantic could end up disappearing in the near future.
For those who seek to flee from this chaotic 2020 and go back to the year 2005 SpaceHey is here: a version of the original MySpace that, to top it off, is fully functional.
A trip to the year 2005
Those of us who were MySpace users at this time already know what we are going to find: the sky blue bar in which to go to the different sections, square profile photos and go to the profile of our friends to leave comments.
To registerOn the right side of the home plate we will find an orange box. After solving the Captcha, it is time to choose Nickname "so that our friends can recognize us" easily.
If MySpace was famous for something, among other things, it was because of the possibilities it offered us to edit our profile. They invite us to specify what our interests are: books, music, "heroes" or music. An important point is that supports custom HTML and CSS.
We can also define what is our current "state", our state of mind and describe ourselves in a handful of words. Obviously, we can add other users, see if they are online and what their interests are.
If we had Tom on MySpace, on SpaceHey we have An.
If in MySpace we had Tom (Tom Anderson, founder of Myspace, the friend we all had at some point in our lives), in SpaceHey we have An. As in the case of Tom, by default we become "friends" with the creator of this platform.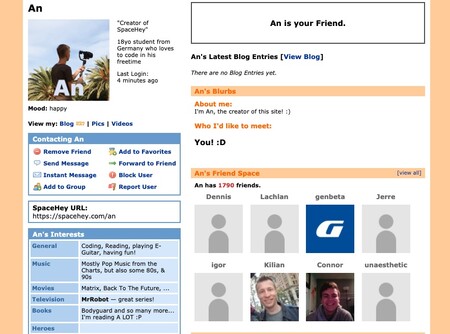 If we go to the profile of a friend we have the possibility to leave a comment, or read the feed of comments left by other people. At the moment it is not possible to add music, but it seems that the creator of this platform is working to add important functionalities (such as the ability to add video or images). Of course, it is already possible to add blog entries.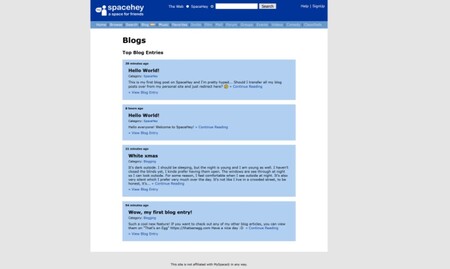 Obviously, SpaceHey has it difficult to compete with the figures that MySpace managed in 2005. Between 2005 and 2009, MySpace was the most important social network on the planet, with 100 million users per month. In June 2006 it surpassed Google and Yahoo, becoming the most visited page in the United States.
Although it is fully functional, SpaceHey may not be of much use today. Yes, connects perfectly with 2020, a year in which nostalgia has been very present in our lives. That is precisely what the creator of SpaceHey proposes:



"Let's face it: it's the year 2020. It's a tough year. We all deserve some fun and nostalgia!"



Get link

Facebook

Twitter

Pinterest

Email

Other Apps